Hey everyone! I want to introduce you all to my crafty friend, Rose. She makes some beautiful, handcrafted and custom ordered tutus for little girls. For her, tutus are: "sugar and spice and everything nice - that's what little girls are made of." She has an Etsy shop called
La Belle Tutu
. You should check it out! She's also a brand new blogger
!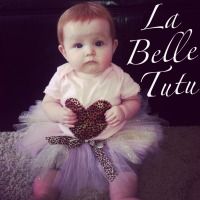 Go and check out her pages! Show her some love :)
Here are some questions I asked her so you could know her a little bit better...
Q: Where did the name "La Belle Tutu" came from?
Rose:
I've been in love with French language and culture since I visited Paris in 2009 – I just think it is so beautiful and elegant. I even gave my doggy the name Pierre because it's French. Ballet terms are mostly French – I think tutu is actually French itself – so I embraced the language when creating the name "La Belle Tutu." However, tutu is actually a masculine word and the correct way to translate "beautiful tutu" would be "beaux tutu" but since my tutus are for little girls I wanted the adjective to be feminine.
Q: When did you decided to start making tutus?
Rose: I decided to make tutus on a whim just a few weeks ago. I went to Michael's craft store, bought what I needed and made a tutu for my goddaughter within a few hours.
Q: I saw you have a leopard print tutu, what other types of designs you have available?
Rose: Anything and everything! If you can envision it, I can create it. I can also create tutus based on someone's favorite hobbies, interests, TV shows, movies, sports teams, books, etc. I'd rather create new and unique tutus than keep creating the same ones over and over.
Q: Have you tried any other type of craft?
Rose: Not really. As a preschool teacher I do a lot of paper/glue/coloring crafts with my pre-k kids. I do plan on trying my hand in making hairbands and other hair accessories in the very near future though!
Q: For you, what's the best thing about crafting?
Rose: Ever since I was little I liked to color and sketch. I've always found it relaxing, but a sketch is just closed up in a sketch book when it's done. I find I get the same relaxation from tutu-ing but, in the end, I have a functioning work of art that won't just sit in my desk drawer. I also love, love, LOVE to see how happy and cute my little customers are :)
Q: Besides crafting, what are your hobbies?
Rose: I'm an avid reader and I love anything outdoorsy – hiking, walking, jogging, running and, my newest hobby, biking.
Q: Name 5 random facts about you :)
1. I'm a HUGE Beatles fan.
4. I have the biggest sweet tooth in the world.
Rose and I met back in 2010 on the Disney College Program- she was one of my roommates :) And as you can see, she's still a Disney princess!