Hello there! Welcome to my first Linky Party!! Do you want to find more blogs to read? Do you want to meet fellow bloggers? I do! That's why I created Nice to Meet You GFC Blog Hop. Let's make some connections with people who likes blogging, just like us! This is what I'm planning to do: Tuesday will be for the
Blog Hop
and Friday will be for
My Pinteresting Week
. I will let you know more about the Pinterest Week this Friday. Let's get started...
• Grab the Blog Hop button and add it to your blog.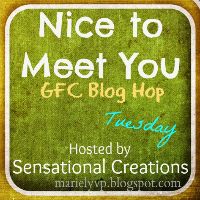 • Follow your host via GFC
• Link up your blog (home page).
• If you want to, you can invite fellow bloggers to join the party!
**New followers: please leave me a comment with a link to your blog so I can follow you back ;)
**Be sure to visit other blogs, leave comments and/or follow via GFC.
Remember:
this Blog Hop is to get to know fellow bloggers. Play nice :)
"Bloggers are your community... not your competition!"
-Jamielyn Nye
Link up your blog below!